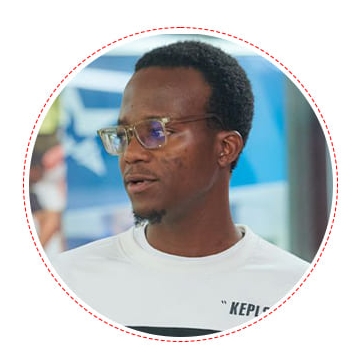 Zephania Reuben
Machine Learning Engineer
© All rights reserved.
Zephania Reuben
Machine Learning Engineer
Zephania Reuben is a Machine Learning Engineer and Artificial Intelligence Researcher, he is also interested in emerging technologies (The 4IR Technologies) and passionate about Mind and Universe. He is strategically utilizing his proficient knowledge in Mathematics, Electronics, and Computer Science to bring impactful technological changes. He is a self motivated person with excellent understanding of predictive thinking, operation and analytics tools for effective analysis of data. He has applied these techniques in broad areas. He is a fast learner, highly analytical, process, and solution-oriented person.
Title

Machine Learning Engineer

Residence

Dar es Salaam/Dodoma

Address

Kigamboni/Dodoma Makulu

e-mail

hello@nsoma.me

Phone

+255 757 113 006
General Computer Programming
Python Core
C++
Django
Django Rest Framework
Artificial Intelligence Consultation
Artificial Intelligence Adoption
Business Intelligence
Technical Strategy
Machine Learning Development
Business Case Understanding
Data Engineering
MLOps
Talks & Facilitations
20+
Resume
Education
B.Sc in Telecommunications Engineering
Acquired technical and analytical skills in the field of Telecommunications and Information Technology as whole from Telecommunications Principles, Computer Networking, Computer Programming, Electronics, and Problem Solving skills.
Experience
Other Experiences
General Artificial Intelligence
Skills
Machine Learning
Deep Learning
Computer Vision
Natural Language Processing
Mathematics for Machine Learning
Geometric Deep Learning
Data Analysis
Generative AI
Data Science
&

Machine Learning

Tools
NumPy
Pandas
Matplotlib
Seaborn
scikit-learn
NetworkX
PyTorch Geometric
Backend Development
Tools
Django
Django Rest Framework
Oracle
MySQL
SQLite
NoSQL
OpenCV
NLTK
fast.ai
spaCy
Latex
Github
BitBucket
Marketing
Logical Reasoning
Team Player
Social Media
Time Management
Communication
Problem-Solving
Social Networking
Flexibility
Project Management
Presentation
Public Speaking
Talks
Workshops & Training
Technical Talk
Machine Learning.
Talk
Talk on Natural Language Processing.
Oct 2022
AI4D Multi-disciplinary Research Lab
Artificial Intelligence Workshop
A 3 days Artificial Intelligence training for Tanzania Revenue Authority (TRA) executives, which covered:- Data Science for Executives Data Visualization & Analysis Tools Machine Learning Fundamentals • Machine Learning Using Python and SciKit-Learn • Fraud Detector Modeling using Machine Learning Deep Learning Fundamentals.
Speaker
Talk and Demostration of OpticAI a tool built by NileAGI for Diabetic Retinopathy diagonosis.
Jul 2022
AI4D Multi-disciplinary Research Lab
Artificial Intelligence Workshop
A four days Machine Learning Bootcamp, which covered:- Python for Data Science and Machine Learning. Data Science Fundamentals Data Visualization & Analysis Tools Mathematics for Machine Learning Machine Learning • Theory behind Machine Learning algorithms • Practical Implementation Using Python and SciKit-Learn Solving Machine Learning challenges in different platforms e.g Zindi and Kaggle Introduction to Machine Learning Operations (MLOps).
Jun 2021
Deep Learning IndabaX Tanzania
Technical Talk
Computer Vision and TensorFlow.
Technical Talk, with David Davis
Talk on Data Science and Feature Engineering techniques in Machine Learning.
Technical Talk
Talk on Machine Learning & Launching a Career in Data Science.
Apr 2019
UDOM AI, The University of Dodoma
Technical Talk
Fundamentals of Python for Data Science and Machine Learning.
Conferences